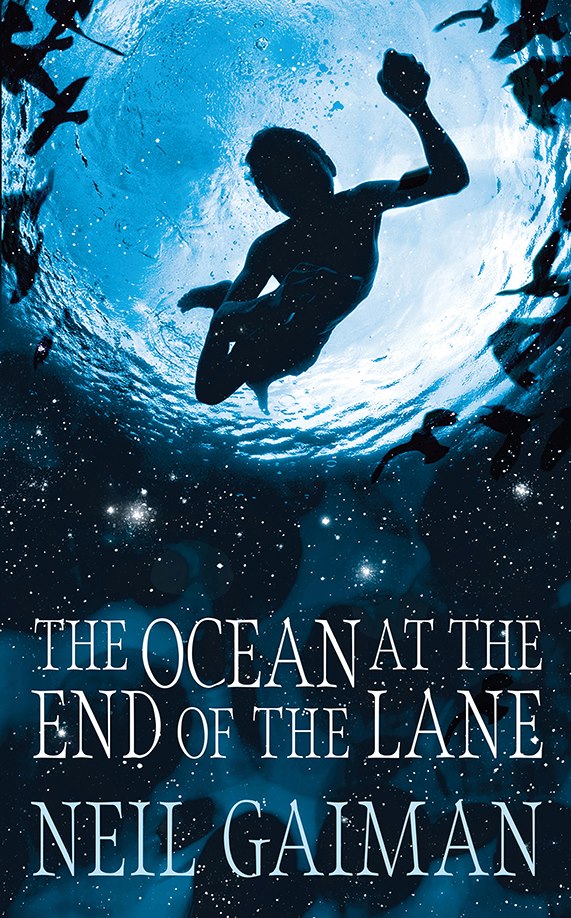 It took a lot of coaxing and badgering to get me to pick up a Neil Gaiman book, but it was never from a lack of interest; I simply hadn't got there yet.
I finally did just over a year ago, and haven't looked back since. I'm fairly certain that Mr Gaiman's head is the place where half remembered dreams go to end up more beautiful, and more complete than anyone ever thought possible. His words have had a profound effect on me, and I swear I've been a fan my whole life. I'd try to explain, but to do so is to become lexically challenged. I need my words right now. Having said that, I'll try my hardest to make this an actual book review and not an ode to the author.
But where to begin? Inevitably, at the beginning. We are introduced to a man attending a funeral, in the neighbourhood in which he grew up. He takes a tumble down memory lane; all of a sudden he's seven years old again and no one attended his birthday party. He remembers Lettie Hempstock, the 11 year old girl who convinces him that a pond behind her house is actually the ocean. He remembers the lodger who stole the family car, and committed suicide in it. And he remembers the unspeakable evils that came as a consequence.
The novel's beauty lies in its innocence of childhood memory, in its heart lies the need for survival against all odds, and in its soul the very magic of it lies (in my humble opinion) a story of friendship and trust. I entered a place that had no concept of time while I was reading this; I'd started during the day, and the sun had started to set by the time I looked up from the last page. Of course, it has some unspeakable horrors that leaves me goose pimply and nervous. There are three chapters, two involve a bathroom and one a field; even speaking about it makes my skin react terribly, they're the sort of instances that will stay with me forever. With the seven year old protagonist, I was transported back to younger days when I would end up being terrified by what I was reading and desperately trying to make sense of the why.
It was everything I hoped it would be, and absolutely nothing I expected. It was different, and definitely more personal to the author, but it felt the same and all wrapped up in a familiar genre that is so completely his own it can only really be described in my head as Gaimany. I loved this book. I'm glad it turned from a novella, into a novel. I will recommend this to everyone of every age group, simply because any age group can read it. I so highly recommend this, I'd probably even be willing to part with my own copy. I think.
Rating:

★★★
★
★